Providing Immune Boosting Natural Products
Welcome to Wellness Bell™ and to our flagship product QZQ™ Boost!
Scientific research shows that QZQ™ formulation components boost human immunity's natural potent defense forces against viruses.**
QZQ™ Boost combines the high performing research components into a single easy-to-swallow formulation that's more economical and convenient than purchase and use of the individual components.
Biomedical research confirms the effectiveness of QZQ™ Boost ingredients to turbocharge YOUR immune function against virus-attack, to help diminish - even to block - viral infection.**
Explore The Research
Explore the Research page for the landmark scientific research QZQTM BoostTM is based on. And visit the growing body of work of other scientists positively citing the landmark articles as demonstrating the support and strengthening of the immune response provided by QZQTM BoostTM ingredients.
We would love to hear from you if you have comments or questions regarding the landmark research
or the remarkable QZQTM BOOST immune enhancing supplement.
---
Buy QZQ™ Boost Immune Defense
Once you're familiar with the science behind QZQ™, consider what life would be like living with confidence wherever you travel, work, commute, shop, vacation and live. Who else do you know who would benefit from extra immune power? Let them know about QZQ™!
Wellness Bell™
QZQ™ Boost Immune Defense
Formulated by Biomedical Scientists
Regular price
Sale price
$42.49 USD
Unit price
per
Sale
Sold out
QUANTITY DISCOUNTS!
Maximum Quantity 10
FREE SHIPPING on 2 or more
(Current "Best By" Date is 08-2024)
Our flagship product contains highly effective immunity benefiting ingredients combined in one convenient formulation to help your system maintain robust healthy responses to microbial challenges.**
Questions? Comments? Send us a note!
Send Message Here
View full details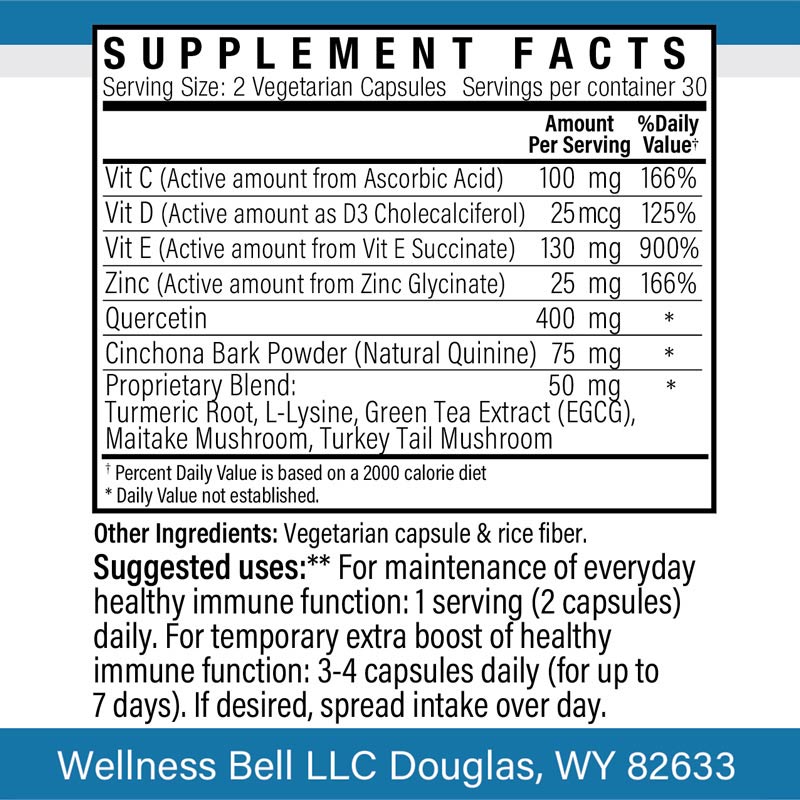 Numerous studies demonstrate that ingredients of QZQ™ BOOST:**
• Support development/function of immune system components
• Maintain cells' natural barriers against attack
• Enhance lung cells' normal healthy clearance of microscopic surface litter
• Contribute to normal balancing of immune system's inflammation response
• Help promote optimal cardiovascular function
QZQ™ Boost Immune Defense Ingredient Benefits Noted by Scientists:**
ZINC BENEFITS**

• Supports normal development and function of immune system cells

• Powers/activates dozens of protective enzymes

• Inhibits viral binding to cell membrane receptors

• Inhibits viral replication in cells

• Enhances lung cells' mechanical clearance of surface "litter" such as virus particles

• Tightens cell-to-cell junctures against microbial infiltration

• Helps repair virus-damaged lung cells

• Tamps down inflammatory immune responses

QUERCETIN BENEFITS**

• Enhances importation of zinc into cells, increasing intracellular Zn+2 concentration

• Blocks viruses from entering cells

• Reduces inflammation

• Promotes cardiovascular health 

• Serves as anti-diabetic agent

QUINA BARK COMPOUNDS BENEFITS**

• Enhance importation of zinc into cells, increasing intracellular Zn+2 concentration

• Elicit anti-inflammatory response
**These statements have not been evaluated by the Food and Drug Administration.
This product is not intended to diagnose, treat, cure or prevent any disease.
Testimonials
Wendy P.

Abraham J.

Florence B.

VIEW MORE TESTIMONIALS

See Testimonials Page for these and many additional testimonials.

Once you experience the effectiveness of QZQ™ Boost, you'll find it to be indispensable for you and your family. Please send us a testimonial once you do!

Douglas W.